Today's article is another Product Review for a brand new product from Socrates Socratous – Killer Content
I've actually gone out and bought this immediately, as I've bought some of Socrates products before and found them to be extremely good products packed with content and value. He has once again produced something which I've been looking for, for some time, which is a simple way of managing the auto-blogging sites I setup. All the other products I've bought, whilst being very good products, did not provide me with the ease of use and control I like to have.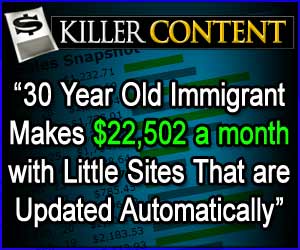 Now there are many auto-blogging products flooding the internet at the moment but this one is not really an auto-blogging product in the same sense, as it has one major difference. It allows you to have more control over what, when and how, you are posting, as well as add more customised money making content. I've not used it fully yet but have had a good look around the members area and watched the introductory video and it all looks extremely well thought out.
What I really like is that of all the other products in this area, some of which I've reviewed already, this is the only one I've found which really allows this level of control.  In reality you probably don't need to know what happens 'under the hood', as long as they work and bring in the all important income, but I like to know how something is done, so that if it goes wrong I know where to look to fix it. So I'll probably use the other products to set things up and then use Killer Content to manage the websites better. Once I really get into it I'll let you know.
You can read the full review here: Articles / Product Reviews / Socrates Socratous' Killer Content
We would really appreciate reading your own comments on this article, so please leave a comment or even your own review of Killer Content if you've already purchased it.

I'd also llke to offer you a free gift report for your time in reading Today's article and leaving a comment. Simply choose any (or all) of the following and claim you FREE gift Today.